Home made remedies for stretch marks
Whoever has them mostly hates them. Try these remedies, they will make them fade away.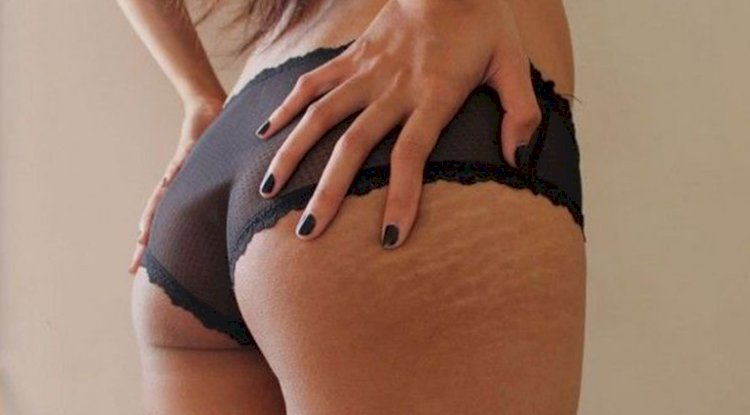 I made a survey among my followers and stretch marks seem to be an important topic for most women. Some already have them and the others want to prevent having them. I had written an article a couple of years ago and I think it is totally worth reading if you want to learn the reason why you got those pinkish streaks or stripes. I also listed the options you are offered if you go to a dermatologist or plastic surgeon.
In this article I want to focus on home made remedies though. As I believe there is no laser, needling or microdermabrasion method which will erase all signs of stretch marks a hundred percent, I also don't think any of these natural methods will. BUT: if you apply the ointments every day over the course of several month, you will most certainly see the stretch marks fade.
We will have two steps of the treatment. The first one is a natural form of microdermabrasion which means that we will scrub the skin to exfoliate the area where the stretch marks are located. I added the lemon juice because it will lighten the colour of the stretch marks. Rubbed in well the coconut oil can penetrate deeper into your skin. Mix the three ingredients that you most probably have at home anyways and start with your treatment.
STEP 1
1 Turkish tea glass sugar
1/4 tea glass Coconut oil
Juice of 1/2 Lemon
Mix the sugar and the oil to the consistency of wet beach sand. Add the lemon juice and apply the peeling mixture on the part of your body where the stretch marks are. Repeat several times a week while in the shower. Make sure to rub the mixture on for 8-10 minutes but do it very very gently, without harming your skin.
STEP 2
1 tablespoon cacao butter
1 vitamin E capsule
Mix the butter and the oil and rub the mixture into your skin for 8-10 minutes again. I know it takes a lot of time and discipline but only patience will get you the results you want.
More important than than the treatment is the prevention of stretch marks. Here are a couple of tips on how to avoid them:
Exercise regularly because this helps you control your weight. Avoid crash diets.
Eat a balanced and nutritious diet that contains vitamin C and E which help your body make more collagen and elastin. Good sources to heal your skin are blueberries, strawberries, carrots, spinach, green beans, olives, almonds, avocados, sunflower and pumpkin seeds.
Drink lots of liquids because this way, your skin will stay hydrated and maintain elasticity. Make sure that you drink at least two liters of water every day.
Creams may help to prevent stretch marks. When I was pregnant, I used to buy Palmers' Cocoa Butter Body Lotion which I felt left my skin soft and moist like no other. Since I never developed stretch marks I didn't try it, but Palmers' has a Cocoa Tummy Butter for stretch marks that you may want to use. I have seen that you can order it online in Turkey.
Stretch marks can occur at every age. Teenagers or pregnant women may get them easily because they grow quickly in a short period of time. Lots of people suffer when it is summer and time to go to the beach. They feel embarrassed about those lines. But there is absolutely nothing to be ashamed of. Stretch marks are part of the process of growing up or giving life to a little human. This is something to be proud of.
Stretch marks should not affect your personality and self-confidence. Stretch marks are part of our story and they will fade away with time. Our home made ointments may help to speed up the process, so go and get that sugar out of the cupboard.
PS. If step 1 and 2 don't work for you, you may want to try Vicks Vapo Rub. You know that cream we rub into our chest when we caught a cold. Some women in the forum swore it worked for them.