Horse riding in the Camargue
If you love horses this is your type of holiday because you will ride through an incredible nature.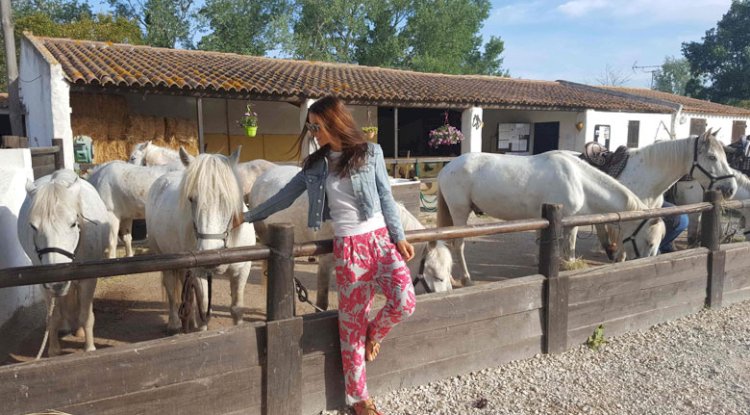 You must have seen them in the movies. Those white horses, galloping through the waters. Breath taking, absolutely beautiful. Now imagine yourself on the back of one of these horses. What you feel is unrestricted freedom.
It had been a while we had met with my two sisters. It was Caroline's idea. She asked Nathalie and me if we would be interested in horse riding when we were discussing where to meet. It didn't take lots of convincing. France was close, had lots of yummy cheese to offer and I thought that discovering a new sports would be way more fun than spending money on shopping.
I bought my flight to Marseille and trusted my sister for the rest of the bookings. Caroline and Nathalie arrived around the same time by train in Arles which is a cute little village with two ancient amphitheaters. We paid the clerk 10€ and left the suitcases at some hotel reception. Because of the bombings, they have removed the lockers that you usually find at the train stations.
When exploring Arles, we walked into a nudes exhibition in a historical building. I didn't like the works too much but there was a nice atmosphere. We had dinner in a tiny restaurant in the old village and then dessert and coffee on the main market place. By chatting to our friendly waiter, we found out that there was a single taxi working at night. But we were lucky, we didn't have to wait for long until it picked us up and took us to the hotel which was a 20 minutes drive away.
The hotel Caroline had booked was simple but cute. Our adventure started with us three girls climbing the 2 meter fence because my sister hadn't got the entrance code right. So make sure you have it sent to you if you decide to go there.
The next morning we had breakfast and I was quite happy because there was oatmeal with dried and fresh fruit as well as coffee. That's all I need to jump start my day. We ate and were excited to meet with our horses. Mine was called Brume which means fog or smoke in french. It was a female and the kindest horse ever. The teacher called Elise gave some instructions on how to hold the Zügel and off we went. It was a three minutes crash course and no one expects you to have riding experience. There was a very mixed crowd: a mom with her daughter, two couples, a single woman and us. Apparently everyone expect for Nathalie and me had been riding before so our guide involved lots of trot and gallop. Let me tell you right away: trot is the most difficult because you need to catch the rhythm of the horses' movement. Gallop is way more easy: lift your butt, grab your horses' mane, press your feet down and enjoy flying. It is so much fun!
We went for the full day, the tour to the beach. It was great and none of us felt pain the next morning. But I guess that is because we are all fit. There were some participants who complained about muscle ache, especially in their adductors which is the inner thigh. If you want to test first, you better go just for the 2 hours tour the first day, eventually book an other one in the afternoon and then decide for or against the big tour the next morning. The staff is very flexible and supporting, they will try everything to make you enjoy your stay at most.
The first evening we didn't feel like going far because we were tired and extremely hungry. We went to a restaurant about 800 meters down the road called "Le Regis". I guess it was the owner who served us. He was great. Can you believe that he offered making a omelette for me when I told him that I was a vegetarian? I had been dreaming about omelette all day! But the next evening we went to Les Saintes Maries de la Mer which is a charming little village on the sea side. The Mistral wind was rough and most boutiques were closed because it was Sunday evening. But we still found some souvenirs for our beloved ones. I bought homemade Nougat in all colours, organic honey with lavender flavour and berries marmalade with almonds. I also found these very cute plates and cups for the kids and bought two gorgeous bracelets for my friend and myself from the same store. We had dinner at the most stylish place called "La Table du 9". Either go early or have a reservation done, it gets really busy because the food and wine are delicious. The owner takes big pride in explaining and answering every question about the menu which is scribbled down on a black board that they keep carry around through the restaurant.
I definitely want to go back to the Camargue with Zoe and Noah when they are a bit older. I think they would absolutely love it.
Best season to visit: April/May and September. We were lucky because we saw all these beautiful yellow Iris flowers blossoming. They were a bit late this year, usually their season is in April rather than May. You may also go in summer and swim in the sea or the hotel's pool, but it gets really hot.
Hotel: Mas des Barres, close to Les Saintes Maries de la Mer. It is a 3 stars hotels which has everything you need but doesn't offer much luxury. If you want to take the big tour, tell the reception to prepare a pic-nic for you. They make sandwiches only, so you may want to buy some fruit and water the day ahead. Check their website here www.mas-des-barres.com
Traveling there: Fly to Marseille and take the bus shuttle to Vitrolles train station. There is a direct train to Arles, the ride takes about half an hour. Buses to Mas de Barre run only a couple of times a day. You may want to take a taxi when you arrive with your luggage. On the way back again, you can comfortably catch the bus which is only a 3 minutes walk from the hotel.
Equipment: I recommend to wear water proof boots for riding. You don't need professional gear, but since you will cross rivers, sneakers are not a very good choice. I wore lots of layers on top so I could put on and take off according to the temperatures. I wore jeans, but thick tights are fine too. I got stung through my pants by mosquitos though. Take come spray against them and don't forget your sunglasses. You don't need to bring a helmet, the hotel will borrow you one from theirs.
Budget: We paid 92€ per night and double room for two persons, breakfast was 10€. The taxi ride from Arles to the hotel was 70€ and the one to Les Saintes Maries de la Mer 20€, the bus trip was 1€ and the train ticket 12€. Riding all day (6 hours) cost around 92€ a person. 3 course dinner menus were between 25-30€.