Week-End in London
Of course it has to be raining when you go to London. But honestly, it was kind of romantic to kiss under our huge umbrella.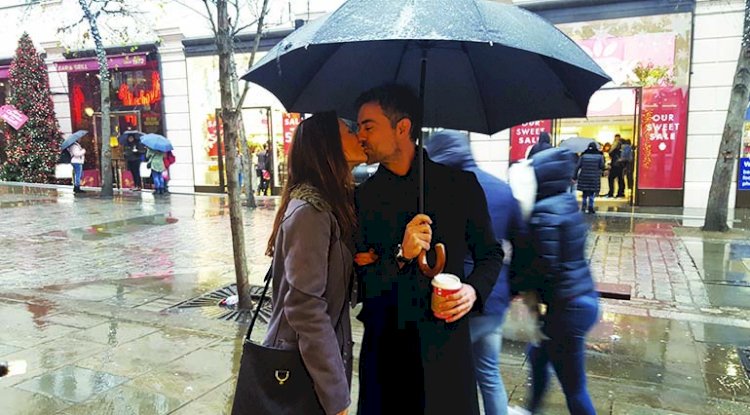 Week-ends are always great but if you are going somewhere they become more special. You will remember them more likely because when I think back of the two years that I have been together with Kerem, I don't remember the numerous cosy nights in but the trips we did together: Berlin, Marrakech, Tokyo, Los Angeles and now London.
The trip to London was my birthday present and we actually decided that we wouldn't buy each other presents anymore but spend our money for traveling the world. London was awesome. We went Friday morning and came back Monday night. We had lots of delay because of a storm, but frankly we were glad the flight didn't get cancelled. We had found a very cute place through Airbnb which is a network that enables people to list or rent homes short term. We had chosen a cosy place in Shepherds Bush. I liked its neighbourhood because I could buy all the indian spices I had intended to bring back home. But probably we will rent a flat in Soho next time we go. Soho is where you have all these cute little boutiques and cafés, we absolutely loved it.
Kerem and I spent our days getting up relatively early (there is a 3 hours time change so I guess we were jet lagged ahahaha) and strolling around town. We used either the subway or Uber the app to get to places. On our arrival day, we went to Tate Gallery. It is open until 10 pm on week-ends. By the time we got there it was too dark to see the beautiful façade of the building so we went back on Monday. But we walked through both houses, had a surprisingly nice coffee in their shop and a lovely pumpkin/lentil soup in the restaurant on the top floor before heading back home.
On Saturday morning we went to Eggbreak which is located in Notting Hill for breakfast. As the name suggests, we had hearty egg dishes and a delicious chia pudding topped with dates and pomegranate. They don't take reservations but they have a second floor downstairs, you will most certainly find a spot.
After breakfast we went to The Design Museum which is in Kensington. The foundation covers product, industrial, graphic, fashion and architectural design. We found a couple of presents in the museum shop next door. As in most museums, there are parts of the exhibition you can see without paying an admission. We checked out everything and liked the installation showed under the theme "Fear and Love" but weren't much impressed with "Beazley Designs of the Year". The building itself is really cool and cosy at the same time. The architect John Pawson used lots of wood and cement, one of my favourite combinations.
In the evening we went to a party in Soho House. Dinner was yummy, I was actually surprised to find quinoa and lentil salad, hummus, a big cheese selection and many raw vegetables on the buffet. They were roasting piglets, offering lobsters and meatballs too. I guess Kerem and I spent most time circling around the dessert buffet. I hadn't been eating pantone in years and there was a giant one!
On Sunday, I had planned to take Kerem to 26 Grains for breakfast but because of the holidays, it was closed. It is located in a cute courtyard, you should check it out and let me know how it was. The reviews are awesome. We went to a hotel close by and were quite happy with our first meal of the day. Then we went to covent garden. There were two opera singers who entertained the crowd, they were pretty amazing. We bought a very nice two coloured leather Satchel bag for Kerem's sister and had her initials engraved at Cambridge Satchel. We didn't do much afterwards since it started pouring rain. We took the subway to a shopping mall and got really bored really fast. So we bought a bottle of wine (which turned out to be awful), some greens and cheese for a movie night at home. We then ordered some indian food which was super greasy but tasty. I don't understand why cooks need to use that much oil, we could barely walk after that meal!
Monday we went back to Tate Gallery and had our first stop in Soho Coffee which is ten times better than Starbucks. We did our final gift shopping in the museum's gift shop which has a limited edition of really nice items that are actually not that expensive. You can find a very cool pen for 10£.
Since we had locked up our suitcases at Paddington station we returned there and then took the train to the airport. It is called Heathrow Express and the ride takes 15 minutes only. Food at the airport isn't great so you may want to bring a picnic or eat before. We spent quite some time waiting in line for the tax refund, so calculate an extra hour in case you want your return in cash.
We are planning on going back to London in summer when it is warmer and hopefully less rainy. You should come too, it is such a fun city and their open-air concerts rock. Can you believe I didn't buy anything but some books for the kids?! Next time I will check out Top Shop on Oxford street where they sell local designer's clothes in the basement…