Best 7 Pre-Workout Snacks
If you eat the right snack before your workout, you will have so much more energy.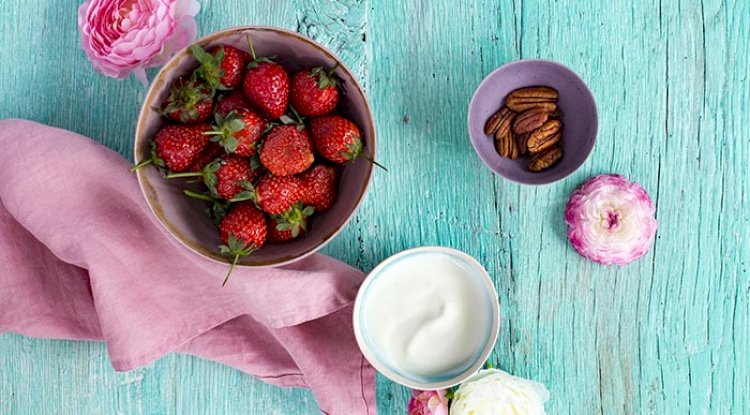 Have you ever eaten and gone to the gym right afterwards? There were some days I couldn't organise myself better and I swear, I wanted to puke when doing that set of squats! I figured that I get the best results when eating a light meal 2-3 hours before training, but you may want to eat only 1-2 hours before. Important is that the food doesn't lie heavy in your stomach and that you have still enough energy to jumpstart your upcoming session.
The snacks I chose contain equal parts of fast-digesting carbs and protein to fuel your muscles before you hit the gym. Drink 5-6 dl of water with your meal to be ideally prepared for your badass training.
1) YOGHURT DREAM
1 cup of joghurt, 2 cups of fresh strawberries
Wash the berries and enjoy!
2) COFFEE COOLER
1 americano, 1 scoop chocolate whey, 1 cup of ice cubes
Blend everything in the mixer until you got a creamy shake.
3) FANCY APPLE
1 large apple, 2 tablespoons peanut butter
Cut the apple in slices and dip them into peanut butter.
4) EXOTIC SMOOTHIE
1/4 fresh pineapple, 1 banana, 11/2 cups almond milk
Blend all the ingredients and add some ice cubes if you like it extra cold.
5) DRIED FRUIT BOWL
Fill a bowl with a little (!) handful of raw almonds, cajun nuts or walnuts and an other little (!) handful of dried blueberries, apricots or other naturally dried fruits you desire.
6) MILK RICE
1/4 cup white rice, 1/2 cup milk, scatter of raisins
Cook the rice with the milk and the raisins. Top with a dash of cinnamon before eating.
7) CARROT DIP
2 carrots, 2 tablespoons cottage cheese (lor peyniri), fresh herbs
Peel and slice the carrots. Mix dried peppermint and chilli flakes with little salt and black pepper to season the dip.