Make healthy choices at the Restaurant
Of course it is way easier to eat healthy at home. But you can also make healthy choices at the restaurant.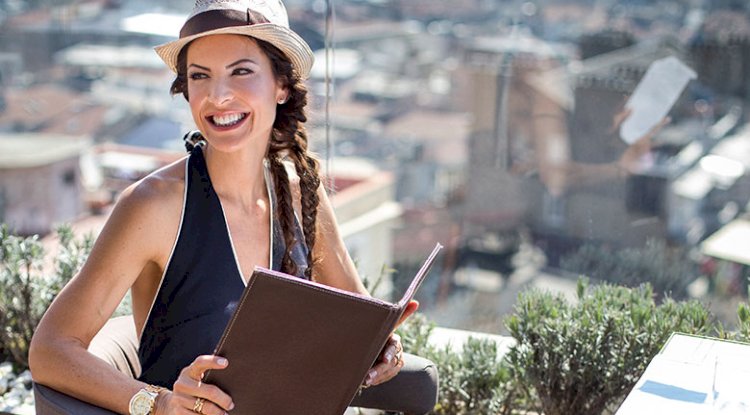 Make healthy choices at the Restaurant
It is really hard to stay fit if you have to eat out at the restaurant. And we all have a business lunch, or dinner with friends at some point. I am going to give you some advise on how you can enjoy your meal without ruining your healthy diet.
First of all, if you are supposed to have a business lunch or dinner with people you don't like too much, try to schedule the meeting earlier or later in the day. You can have coffee (without dessert!) instead. Eating is a pleasure and you should enjoy it, so eat with people that you care for only.
If you go out for dinner, eat something light at home. Let's say I am meeting with the girls at 7 pm… I usually come back from the gym at 4 pm so I get to spend time with Zoe and Noah when they come from school. If I don't eat until 7 pm I will be starving to the point that I will have to eat the bread they serve before the orders come. To avoid this, I eat a bowl of chickpeas or quinoa salad when I get home after my training. This way I will still be hungry but not famished.
Don't eat the bread that they bring to your table. Order a healthy starter instead: A soup like minestrone, lentil soup or chicken broth is a good choice. Creamy soups are heavy, that's why I don't recommend them. You can also have a seasonal salad as a starter.
Avoid ordering anything that comes in a sauce. Look for grilled meat and fish instead. If you like a particular dish you can ask the waiter if they can grill the meat instead of frying it. Make sure he understands you don't want the sauce on top.
Choose salad or vegetables as side orders. Many restaurants pour butter over steamed vegetables. Tell them you would appreciate if they could prepare it without. Personally I don't like most salad dressings because they are fatty and full of garlic. You can ask them to bring it separately or you can make your own vinaigrette with lemon and olive oil.
As a vegetarian I often have the problem that my healthy choices are limited to the salad section of the menu and I am still hungry after having eaten some leaves and two spoons of quinoa. I am frequently ordering two big size salads in order to get full.
If it is lunch time and you need some carbs, check if the menu offers brown pasta or rice, quinoa or sweet potatoes. If you are dying for some pasta, order Penne all Arrabbiata, Spaghetti Napoli or Bolognese. If it is a good quality restaurant, they will have used fresh ingredients only. No parmesan is better for you.
Remember that alcohol has lots of calories. Of course you can have a glass of wine now and then. But don't drink because you feel you have to order because others do so. You are a grown-up person and you don't have to justify why you don't want to consume alcohol.
Everyone orders dessert? Think twice. Desserts are usually full of simple sugars and saturated fats. If you spotted one of your favourites on the menu, order together with your friends. So you have a couple of bites but not the full dessert. If you are going to the movie theatre after dinner, you may have a small cup of frozen yoghurt. I trust you to choose fresh or frozen fruits over chocolate and brownies for the toppings.