Mommy and daddy should go to Kids' Hotels
Kids are having a blast because everything is designed according to their preferences. But kids' hotels are great for us too, because we get to spend some time for ourselves.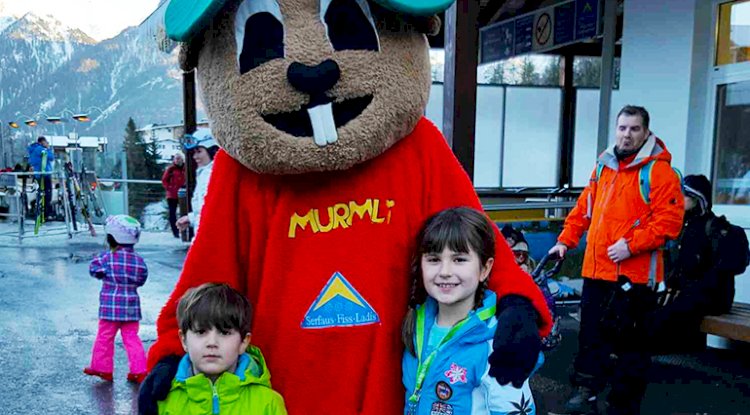 In Europe, they have this awesome concept called Kids' Hotels. You may think it is all about the kids and actually it is. Yet BECAUSE everything is designed for the little ones, parents can actually enjoy some amorous tête-à-tête while their children are making new friends at the club or rehearsing for the show.
After my divorce three years ago, I decided it was time for my kids to learn skiing. I had all these wonderful memories of my own childhood: my sisters and I making our first curves down the slope, teachers dressed in red picking us up when we fell and Walt Disney Figures and an igloo making us wanting to go back every day of our holiday.
I found this website called Kinderhotels and started surfing. Since I had heard that the region Serfaus-Fiss-Ladys in Austria was great, I checked for hotels around there and booked for a week at Hotel Löwe Bär which is an exclusive 4-star hotel only a couple of minutes away from the valley station. I went together with my parents, but it is also perfect for single moms.
We usually got up around 8 am and then went to breakfast all dressed in our ski gear already. There are four buffets in a day: breakfast, lunch, tea time and dinner. It is so convenient, because the kids will always find something they like. Zoe and Noah were so happy about the bread variety. You can order your omelette (me of course) with cheese (me!) and vegetables and they have five different kinds of fruit every day at all times.
After breakfast we would take the train to the mountains. You don't pay anything and because they leave frequently, there is always space. It just takes three minutes. You could also walk through the village for ten minutes, but the kids preferred the train of course. We had rented our equipment. It is really not worth bringing it all the way from Turkey. It is not comparable to the stuff they give you in Erzurum. In Austria everything is top quality and in excellent condition. You enter your height, weight and level together with your address into the computer system and you get everything – from helmet until ski shoes and snowboard. We left our equipment in lockers every afternoon and picked it up in the morning again.
At 10:30 am we were up the mountain and took the kids to their groups. Most of the teachers are Dutch, they are all very caring and sweet. I always got lunch vouchers so that Zoe and Noah could eat with their little friends. They said that the food was yummy and that they had lots of fun. My boyfriend Kerem, his daughter Yasmin (11) and I had time to snowboard all day until 3:30 pm. It was wonderful! After Yasmin learned how much fun my kids had with their groups, she was wondering if there was a snowboard group too. And there was! She went with them and on Friday, everyone participated in the race and got a medal to take home.
Kerem and I discovered this Ski Lounge which is next to the ski school meeting points. They don't have an own website but you can check from here Serfaus-Fiss-Ladis They had sun beds with blankets on the terrace, the most amazing food and very friendly staff. If you are not skiing yourself, this is the perfect spot to set up your office.
In the afternoon, we would pick up the kids who were always super happy and wanted to continue skiing! We usually walked back to the hotel through the little village. There are lots of cute boutiques and shops where you can find presents or a good bottle of wine to share with your hubby at night. By the way: Ask for Kids' Champagne at the local super market. We got a bottle to celebrate their good results Friday night and apparently it was the highlight of the week.
They were always very hungry when we got back to the hotel around 5 pm. Sometimes they had something from the dessert buffet that is set up in the afternoon, sometimes they had some fruit or a yoghurt only. They loved going to the water park before dinner which gave Kerem and me time to have a shower and catch up with some work. You should go to dinner early, I think it was over at 8:30 pm. But it's much better this way because the kids want to go to the club to play with their friends. There is lots of toys and activities throughout the day and they are under constant supervision of trained staff. What's more, they are dead tired after all these activities. And this is again great because you get to spend some time with your partner.
There is a wellness and spa area but I preferred to spend time with Kerem. When we went to Hotel Buchau with my sister in summer though, we both had some cosmetic treatments and it was perfect. Next year we want to go back to Achensee for sure. It was absolutely amazing! They have a football school, ponies, a huge playground, pool and go-kart (there are for adults too!). You can go for long tours, using the hotel's electric bikes. You simply put your kids in the trailer and start pedalling through the beautiful valley. When you get tired, you turn on the electricity and keep on driving.
There are kids' hotels in Croatia, Bavaria, Italy and Austria. I wish there were in Turkey too!