Healthy Cherry Pie
This is a pie made with chickpeas for extra protein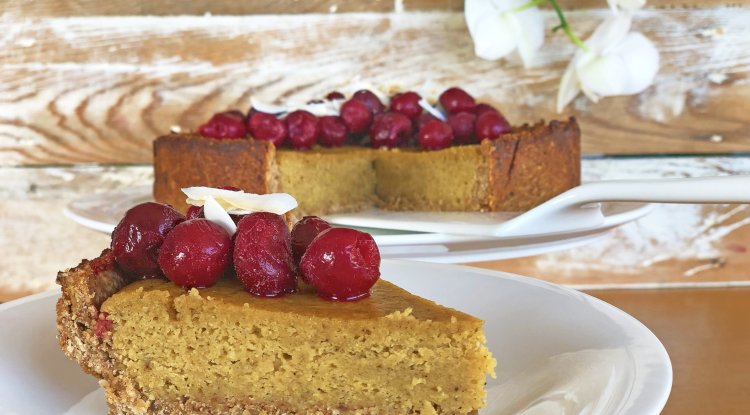 I have created this brownie recipe with Mexican beans for my last book that has become a family favorite, so I thought I could continue experimenting with legumes. This time I wanted to make a vanilla pie, so I decided to use chickpeas for color purposes. It turned out great and it is unbelievable how satisfied it keeps you. I swear, despite loving the taste you will have enough after a single slice.
INGREDIENTS NEEDED:
Bottom:
1 cup (250 ml) oatmeal
1 cup hazelnuts
1 cup dates
1/4 cup water
Filling:
2.5 cups cooked chickpeas
2 eggs
3 tablespoons coconut oil
100 gr brown sugar
1 tablespoon baking powder
1 tablespoon vanilla seeds
1 pinch of salt
Topping:
2 cups cherries
2 tablespoons coconut chips
PREPARATION:
Soak the chickpeas in water the night before. Cook them in the steamer and let the legumes cool down while preparing the bottom of the cake. It is so simple to make this dough: All you have to do is throw all the ingredients in the blender and mix until smooth. Press the dough into a 24 cm spring form pan that you lined with baking paper. Now clean the blender and mix all the ingredients for the filling. Bake for 40 minutes in the 200 degrees preheated oven. Let the pie cool down and add the cherry layer before decorating with the coconut flakes.