How do 30 grams of Protein look like?
Here are some menu ideas if you want to build more muscle. Each contains 30 grams of protein.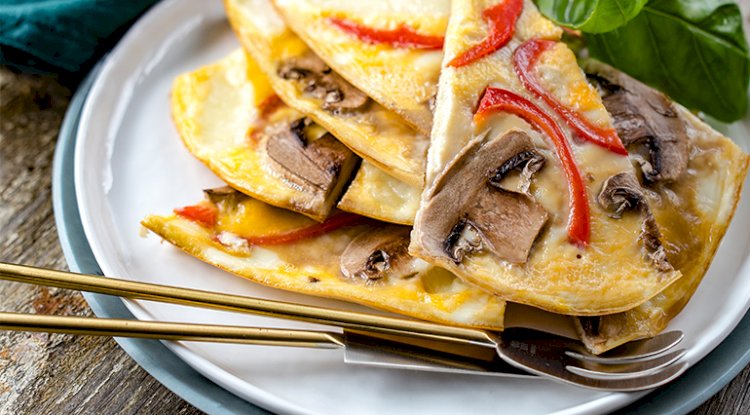 According to me, a balanced diet is full of seasonal vegetables and rich in protein. This way I keep my immune system strong, my metabolism high, encourage muscle growth and accelerate fat burn. If your goal is to to get lean fast, I suggest you work 20-30 grams of protein into every main meal. I know it sounds like a lot of protein but actually it is quite easy to come up with a meal if you use one or several of the ingredients listed below. Let me show you how 30 grams of protein actually look like on a plate:
EGGS: 3 FULL EGGS AND 3 EGG WHITES
Some bodybuilders eat dozens of plain egg whites and I think that is super boring. Whip up 3 large eggs including the yolk and 3 egg whites with some cheese and vegetables. Serve your omelette with salad and avocado on the side for a perfect breakfast.
285 calories
YOGHURT: 600 GR LIGHT PLAIN YOGHURT
It is quite an amount of yoghurt but if you love it as much as I do, you may consider it for a breakfast bowl. Make sure that you choose the light version (I used Pinar for the calculation) and not some flavoured yoghurt. Add fresh berries for a flavourful antioxidant boost. Personally I love blue berries and raspberries best but peaches or banana taste wonderful too.
300 calories
GROUND BEEF: 110 GR LEAN MEAT
If you are not a vegetarian like me, ground beef is a very good source of protein. My boyfriend Kerem's favourite recipe is the eggplant lasagna from my book. You may also cook wholewheat spaghetti with a bolognese sauce or make patties that you eat with grilled vegetables. Make sure that you get the lean meat (95% lean, 5% fat) and not the fatty one when you do your shopping.
218 calories
CHICKEN: 110 GR CHICKEN BREAST
Guess what, chicken is on my list too. If you have grilled chicken, you get a lot of protein without adding lots of carbs or calories. The white meat is low in fat and a good source of potassium and vitamin B6. Get the organic one if you are given the choice. If you don't want to grill it, you may stuff it phentermine into a bag, marinate it with a little olive oil and fresh herbs and bake it in the oven for 45 minutes. Steamed broccoli goes very well with chicken. And please, cook the broccoli for 2 minutes only so the vitamins don't evaporate in the water. It also tastes much better when it is all crisp instead of mashy!
164 calories
TUNAFISH: CANNED TUNA IN WATER
Fish is an excellent source of protein and omega 3 fatty acids which are the good types of fat. They are said to lower the risk for heart disease, depression, dementia and arthritis. Your body can't make them, you have to procure them to through food. In order to get your 30 grams of protein, you should use 140 grams of canned tuna. The most popular tuna fish recipe is salad. But the fish also tastes good as a hearty wholewheat bread sandwich or with pasta. I used Dardanel Light for my calculation.
133 calories
SOYBEANS: 180 GR EDAMAME
Edamame is served in sushi bars, Chinese or Japanese restaurants. One cup of cooked edamame is about 155 grams. I don't know about you, but I can easily eat 180 grams, especially if it is my TV snack. Those soybeans are high in fibre and protein and taste delicious. They sell big packages of frozen edamame in Macro Centre.
311 calories
PROTEIN POWDER: 44 GR CHOCOLATE WHEY PROTEIN
Be careful when you order smoothies in restaurants since they can be massive calorie bombs, especially when they are made with ice-cream. But if you prepare your own, it may be an incredibly nutritious and delicious breakfast or snack. Try this recipe: 1 banana, 1 cup almond milk, 1 tablespoon almond butter, 1 scoop protein powder, ice cubes. I used Muscletech's Performance series Nitrotech which is available in chocolate, biscuit or cappuccino flavour.
160 calories
The indicated calories are for the amount of food indicated in the first line of each paragraph.