On the go: How to Food Prep
If you want to eat healthily, you should cook and bring your food to wherever you go.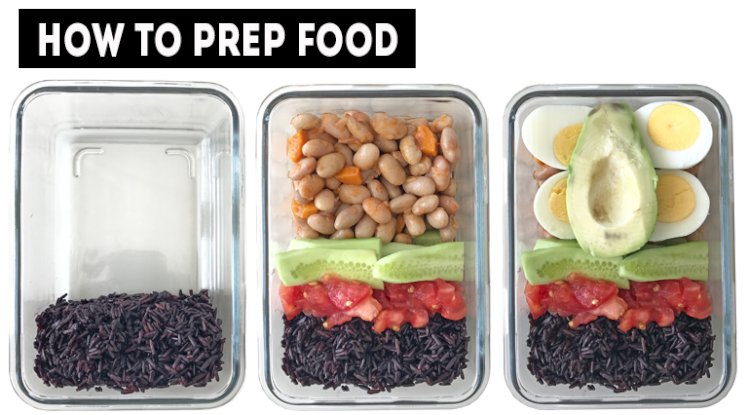 You decided that you are fed up with the food you are served at restaurants, fast food chains or the cafe in your office building? Great! Then let' start food prepping. It really isn't that hard once you are in that mindset. All it takes is a litte preparation and you will be rewarded with yummy meals and a slim waste, it is so much worth it.
YOU NEED CONTAINERS
I prefer glass over plastic containers because I feel it is a safer bet. To manufacture polycarbonate plastics and epoxy resins, some companies use BPA which is a chemical that may leach into foods and beverages especially when the containers are heated. I also have the impression that when I heat food in plastic ware, the food taste changes. This gets even more obvious when I have water sit in a plastic bottle for a while. The only down side with glass containers is that they are pretty heavy. But hey, consider it part of your workout. I strongly suggest you get square ones for all kind of solid foods and then a couple of marmalade glasses that you can use for soup, musli or oatmeal which should be mixed before eating. In that case you don't fill it up to the brim and simply shake it for a bit. Other than that, I encourage you to save one of the glass milk bottles for smoothies and to get two 1 litre water bottles with a wide opening so that you can stuff berries and leaves inside your detox water. For winter, you may want to buy a good quality thermos bottle for your herbal tea.
THINK ABOUT MACROS
Maybe you heard people talking about macros or macronutrients and had absolutely no idea what it means. Basically macros are carbohydrates, protein and fat. These are the three compounds found in the largest quantities in all foods that humans consume. They provide the bulk of calories from whatever we eat. Now I would like you to think about macros: What are your favourite carbs, proteins and fats? Here are some ideas for inspiration:
Carbs: Black rice, quinoa, sweet potatoes, oatmeal, wholewheat pasta, wholewheat flour, seasonal vegetables and fruits
Protein: Eggs, cottage cheese, diet yoghurt, chicken and turkey, fish, beef, tuna fish
Fats: Flaxseeds, olive oil, avocado, raw nuts
GET INSPIRED
Check cook books, food blogs or Instagram accounts for inspiration. You don't need lots of exotic and expensive ingredients to prepare healthy food. Make a shopping list with the items the recipes require and when you come back from the grocery store, clear all the cupboards from foods that are not good for you. Then sit down and make the menu for the next day. Try to have your fruits in the morning, for example with oatmeal or chia pudding. You may also have them as a snack in the afternoon. I always prefer to eat them with some nuts or yoghurt to avoid a sugar spike in my blood stream. Kick start your day with a good amount of carbs. Have more carbs for lunch to keep your energy levels high and opt for protein in the evening. My favourite dinner for carnivores is grilled vegetables with chicken or fish. As a vegetarian, I usually have salad and some vegetable gratin or legumes with yoghurt.
SAMPLE MENUS
Day One
Breakfast: scrambled eggs with tomato dices, topped with cheese
Lunch: healthy sweet potato fries with mung beans salad and melon slices
Snack: dried apricots and roasted hazelnuts
Dinner: yoghurt soup with chick peas and a salad bowl
Day Two
Breakfast: musli
Lunch: buddha bowl with sweet potatoes, black rice, chickpeas, lettuce, avocado, beetroot and cheese cubes
Snack 1: gratinated zucchini boats with feta cheese-egg-dill filling
Dinner: green bean casserole with eggs and oven baked vegetable slices
Snack 2: yoghurt with cinnamon spice, banana with peanut butter and goji berries
Day Three
Breakfast: chia pudding with raspberries and blueberries
Lunch: black rice with green beans, water melon slices and walnuts
Snack: oven baked zucchini patties
Dinner: omelette roll (4 egg whites, 2 yolks), celery salad, half avocado and lettuce
GET STARTED
I strongly suggest you prepare 2 portions of food so that you don't have to cook every single day. If you cook black rice for example, you may use it in your buddha bowl, make a salad or sprinkle some of it over your vegetable omelette. If you prepare some time consuming dish like lasagna, you should definitely make a double portion and freeze one. Since these glass containers are quite heavy, it is a good idea to carry your food in a backpack. Don't forget to add cutlery and napkins and since we are on it: pack some fresh fruit, nuts and dried fruits in your bag too. These are the best quick fixes for when you are on the way.