Full Body Bikini Workout
If your holiday is booked but you want to get fitter, this is a great full body workout for you.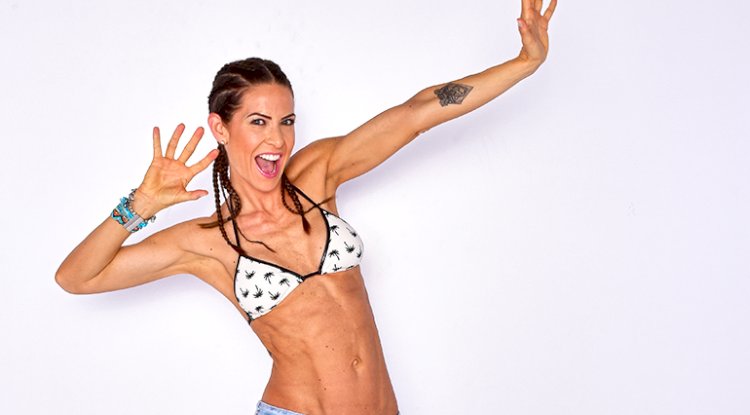 This is the all included kind of deal. You don't need any equipment except for a yoga mat or a soft carpet. I love this workout because you can do it wherever you are, home or on a holiday. Find a a little time once a day and you will feel so much better. Since we work all body parts but not to exhaustion, it is okay to repeat this routine for a month or so. Then change it for a new challenge.
1) CLASSIC SQUAT
Place your feet shoulder width apart and stretch out your arms in front of you. Slowly lower your butt to the floor until your thighs are parallel to the floor. Make sure that your knees don't surpass your toes and that you push up through your heels when returning to the starting position.
2×10 repetitions
2) YOGA SQUAT
Place your left foot over your right knee and then lower yourself into a one legged squat. Hold your arms out for balance and hold this position for about ten seconds before you stand up again.
2×5 repetitions
3) DUCK SQUAT
This is a deep squat. You start like the classic squat but drop until your butt almost touches the floor. Then you come back up but only until your thighs are parallel to the floor, then you drop back to the floor. Hold your hands out to keep your balance.
2×10 repetitions
4) SUMO SQUATS
This is the last squat in the series. It is a great exercise to work inner thighs. This time your feet are wider than shoulder width apart. When you lower down into the squat, make sure your knees are aligned with your thighs and feet, they should at no point turn inwards. Push back up through your heels while squeezing your buttocks.
2×10 repetitions
5) GRASSHOPPER LIFTS
Lay down on the mat and prop up your elbows. Lift your legs as high as you can and hold for a bit before you lower them again.
2×10 repetitions
6) HIP RAISES
Now turn on your back and bend your knees, your feet are placed behind your buttocks. You can rest your hands on your hips or align your arms along your body. Lift your hips as high as you can while you exhale. Hold for a bit before you return to the starting position wile inhaling.
2×10 repetitions
7) LATERAL LEG LIFTS
Take a side plank position but your left knee is bent. Your left shoulder is on top of your straightened arm, your right leg is stretched out and your right arm holding your hip. In small controlled movements, lift your right leg working the outer thigh.
2×10 repetitions both sides
8) VARIED LEG LIFTS
This is almost the same exercise but this time you move your leg forward and lightly touch the floor with your toe tips, then you drive it back up so it is aligned with your body and parallel to the floor. 2×10 repetitions both sides
9) DONKEY KICKS
Come to table position, your hands are placed under your shoulders and your knees bent at 90 degrees. Now you lift one leg as high as you can and hold it there for an instant before lowering it again. Do 10 repetitions before switching to the other side.
2×10 repetitions both sides
10) HIP TRUSTS
Sit on your shins, your hands are propped on your hips. Now get up while pushing your hips forward. Remain in this position for a bit and then return to your starting position.
2×10 repetitions
11) EASY PUSH-UPS
Place your knees on the floor. Your arms are straight, your core engaged. Now lower your body until your nose almost touches the floor. Hold for a sec and slowly push back up. Your tummy and buttocks muscles are engaged at all the time.
2×10 repetitions
12) SEATED V-SITS
Sit with your straight back leaning 30 degrees back. Your knees are bent, your stretched out arms in between your knees. Now you straighten your legs while bringing them up and moving your arms outwards your knees. Hold for a second and go back to the starting position.
2×5 repetitions
13) BICYCLE CRUNCH
Lay down on your back, your knees bent at 90 degrees. Now lift your right shoulder off the floor while slightly supporting your neck with your hands, not pulling it though. Now move with your right elbow towards your left knee. Roll back slowly and do the reverse thing on the other side.
2×10 repetitions both sides
14) PLANK WITH LEG LIFTS
Take a plank position. Make sure your body forms a straight line and your head is facing down. Your elbows are bent at 90 degrees. Now squeeze all your muscles and lift one leg. Hold and then switch.
2×10 repetitions both sides