Chia-Pops: cute and sweet
They look fun and taste great. Use your imagination and create a colorful healthy dessert yourself.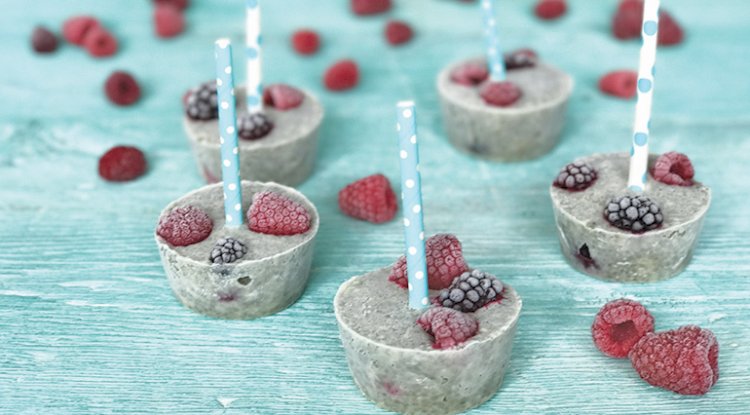 Don't they look super cute? Next time I will use white chia seeds and they will look even better! I wanted to create a dessert which is basically just changing the taste in your mouth after dinner, something which is sweet and low calorie.
These popsicles are basically nothing different from the pudding we eat for breakfast. These are the ingredients I used:
1/2 cup chia seeds
1,5 cup milk
1 spoon vanilla protein powder or vanilla aroma
1 cup frozen raspberries and blackberries
Coconut milk tastes awesome but you may use any milk you have at home, I used full fat cow milk here. You definitely need to sweeten it a bit. I used vanilla protein powder but you may also use vanilla aroma, stevia or honey.
I mixed the seeds with the vanilla powder and the milk and waited for it to thicken. Then I simply filled some frozen berries in the molds and distributed the chia pudding equally. After about 3 hours the popsicles were ready. I asked the kids if they wanted some. Zoe and Noah nodded while Yasmin said I lost her when I said "Chia". But then she had a bite from Kerem and loved it. According to the season, you may do a strawberry or peach version topped with bitter chocolate, just be creative.
I got those lovely straws from Eminönü but I bet you can also order them online. I had bought the silicone baking mold tray in Carrefour if I remember right, but you will definitely find it in that street where all Turks line up to buy coffee from Kurukahveci Mehmet Efendi. You may also ask for Namli Pastirmaci, that is the same street and it is paradise for kids: We get all the party decorations and give-aways from there.