Los Angeles, my second home
As a family we all love Los Angeles. The weather, the easy going people and the restaurants offering lots of vegetarian and vegan options makes it a great destination for us.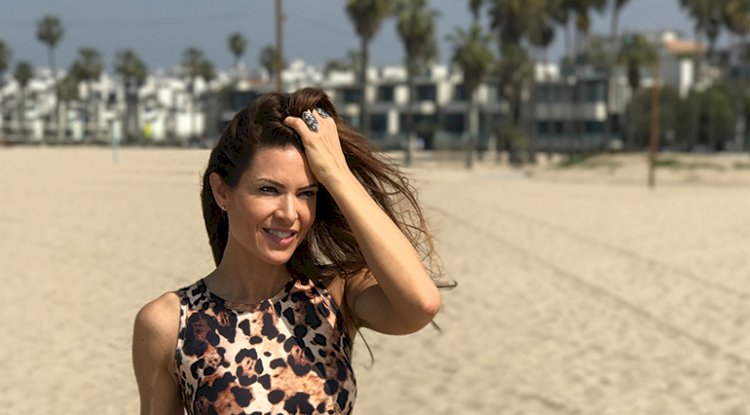 I have been to Los Angeles before I met Kerem, but of course it is completely different once you visit with a local. My boyfriend has been living there for 15 years and he knows the place like the back of his hand. He used to live in a penthouse in Downtown but since he spends more time in Turkey now, we Airbnb and rent a car from Turo usually. Here are my favourite spots for you to go if you decide to book a trip to La La Land.
Where to stay
Last time we stayed in Venice beach. It is a very relaxed neighbourhood and you can comfortably walk to the beach or Abott Kinney Avenue where you have lots of cute little boutiques if you feel like shopping. We went end of March and even though it got warm enough to walk around in a t-shirt during daytime, it got quite chilly at night. You may choose to stay in the city if you want to wear a dress with your high heels at night. If you want to join a cool party, you should stay at Petit Ermitage Hotel which allows members and hotel guests exclusively to their events.
Where to have coffee
I don't understand the hype around Urth Cafe, I think that their coffee sucks and the food is not great either. I definitely prefer Groundwork, Blue Bottle and Intelligentsia. But none of them carry the breakfast I would want to have after my coffee. My favourite breakfast place is Joan's on Third. I usually have their omelette which tastes amazing. It is a wonderful place to meet up with a friend or to start the day with your sweetheart. They have outdoor seating which makes it even more enjoyable. Once you are done with breakfast you may take a stroll and admire all the street art while checking out small boutiques and fashion stores.
Where to have lunch
I love to have salad for lunch and the best one I ever had was the one at Sweetgreen. You can chose a salad from the menu or mix your own. They prepare it in front of you and the sizes are big, you will definitely have had enough after such a salad. I don't like garlic in my dressing and they had a balsamic dressing without. If you want to have coffee afterwards, you can go next door to Verve Coffee Roasters. Just make sure you don't step into the hamburger place in between. They have super greasy food there. Zinc is a nice place for lunch too. It is vegetarian but not necessarily healthy. You may order a tofu sausage with french fries but you can also make healthy choices like me :)
Where to have frozen yoghurt
Here in Turkey they really don't know how to make frozen yoghurt, in Los Angeles they do! I like Yoghurtland better than all the others. You can try the flavours you like before actually filling your cup and you can go naughty or healthy with your toppings – they have a huge variety. I usually go with the classics like vanilla and chocolate but there is also sweet potato, salted caramel pecan or guava pineapple tart for more adventurous people.
Where to have dinner
Gracias Madre in Melrose has a beautiful garden, the cuisine is plant based inspired by the kitchens of Mexico, cooked from locally grown organic ingredients. I am not a huge fan of Mexican kitchen but I liked dinner here. If you want to try vegan kitchen, LA is the place. I liked Plant Food + Wine. Ask to be seated in the courtyard and enjoy a glass of wine over sharing different plates with your friends. If you want to enjoy a romantic atmosphere, Faith and Flower may be the right spot in Downtown. Kerem loved his meat and I indulged on salads.
Where to go out
I guess all the Turks going to LA have heard about Abbey, the gay bar. According to my local friends it is a fun place but you should rather go on a Thursday than during the week-end when you can not even put your two feet down because it is too crammed. Soho House is fun if you want to do some celebrity spotting. We last time had dinner next to Jennifer Garner who was having a girls' night out. But I have to warn you, our Soho House in Istanbul is way more impressive building wise and you have to be a member to get in. If you want to enjoy a drink with some live performance, you may check out No Vacancy. If you are a French Tuesday member, you may want to check out their agenda for a cool Tuesday party.
Where to shop
I haven't done much shopping recently but if you like the big brands you should check The Grove or around Robertson Boulevard where Ivy Restaurant is located. Kerem would never ever go there but before I met him I would have lunch with friends there. The foods are great but the people go there to see and be seen. Santa Monica and 3rd Street are famous for shopping. Personally I prefer small shops with local brands like you can find on Abott Kinney. Melrose is fun too and if you want to check some discounted designer items you may find them in Nordstrom Rack.
LA with kids
Last summer we went to Los Angeles with our three kids and a dog. The US is very child and pet friendly. We spent the first week touring the parks like Legoland and Disneyland. There is plenty of more attractions with Universal Studios, Knott's Berry Farm and LA Zoo. We had rented a loft in Downtown where Kerem used to live and the kids loved it. For the other two weeks we had enrolled them to a summer school. It wasn't bad but I suggest you rather check UCLA if you consider taking your children with you. I know from my girl friend Nevin who lives there that it is an amazing experience. Prices are higher than for other summer schools so you may want to wait until they are a little older so that they can fully appreciate it. Zoe and Noah loved Los Angeles. They had never gone to America before and were mostly impressed by the huge food portions and how chatty the people are.
How to get from A to B
If you stay in Los Angeles for a week, you will definitely want to rent a car. We made good experiences with Turo which works like Airbnb: Residents who don't need their car rent it to tourists for a couple of days. If you go out at night, I suggest you call an Uber so you don't have to bother about finding a parking spot and drinking. The Uber app is super easy to use and prices are much better than if you called an ordinary cab.
Trips from Los Angeles
You may head for Las Vegas. If you haven't ever been there you definitely have to see it. It is such an unreal place with all those people flocking to sin city and having just one thing in mind: PARTY. For me there are exactly 3 reasons to go to Las Vegas, 1) hotels are cheap 2) there are great shows to visit 3) the miracle hotel has a room full of the best frozen yoghurt I have ever eaten in my life. If you are interested in wine culture I suggest you go to Solvang which is an authentic Danish city in Santa Barbara County. Palm Springs, La Jolla, Laguna Beach, San Diego and San Francisco are other beautiful places to go from Los Angeles.
About the flight and jet lag
I like flying with Turkish Airlines. If you fly low season you can find tickets for as low as 600 $. I checked flights for July and they were 1000 $ and will go up until 1600 $ so I recommend you book early. You can now buy exit rows if you fly economy or you can upgrade with your miles. Unfortunately there is no Comfort class anymore, it is either economy or business. The flight is around 13 hours. I usually cannot sleep during the flight so I make sure I have a book and good ear phones with me. Our friends swear that those homeopathic No-Jet-Lag pills work. I will try them next time we go but most importantly you should thrive to adapt to LA time as soon as you land. Don't go to sleep, check in, take a shower and go out for dinner. What's more, you should drink lots of liquids and boost your energy with light foods and seasonal fresh fruits.