Got to love Buddha Bowls
Combine all your favorite ingredients with the left-overs in the fridge and your Buddha bowl is basically ready.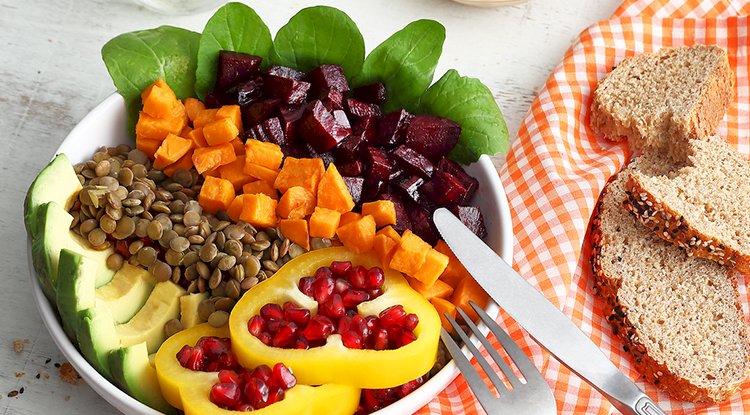 Buddha bowl is a funny name, isn't it? So apparently it's called like this because we fill the bowl so much that it gets a rounded belly appearance on the top and that apparently looks like a Buddha's belly. Frankly I can think of many other people with big bellies but Buddha sounds good to me. It is super easy to prepare one of these hearty bowls because basically you pack everything you have in the fridge into one plate. But you definitely have to make sure that there are lots of raw or cooked vegetables and grains like quinoa or brown rice. You may want to add toppings like seeds, nuts or yoghurt dressings for extra flavour.
Here is what I put in mine: oven baked sweet potatoes with chilli dressing, lettuce, cucumbers, quinoa, avocado and eggs.

You will need the following ingredients:
2 large sweet potatoes
some lettuce
1/2 avocado
1 small cucumber
1 organic egg
1/3 cup quinoa
1/2 chilli pepper
1/4 cup walnuts
1 orange peel, grated
1 tablespoon fresh peppermint
4 tablespoons olive oil
2 tablespoons apple vinegar
1 teaspoon cumin powder
salt and pepper
First I heated the oven to 200°C. Then I peeled the sweet potatoes and cut them into small cubes. I spread them on a baking sheet and brushed them with oil, using one of the tablespoons indicated in the ingredient list above. I also distributed the walnuts on the tray before I shoved it in the oven for 30 minutes.
I cooked more quinoa than a needed for this bowl so I could use it for something else. But basically the ratio is 1:3 so you need one cup of water for 1/3 cup of quinoa. I boiled the seeds with the water and added very little salt for taste. I also cooked the egg while the potatoes were still in the oven.
Once I was done, I grated the orange peel and chopped the pepper and peppermint leaves to whisk into the dressing with the rest of the olive oil, vinegar, cumin, some salt and freshly ground black pepper. I washed the lettuce and cut up the cucumber and avocado.
It takes about 45 minutes to prepare this because you have to wait half an hour for the sweet potatoes to bake. But it's really worth it because you will love this Buddha bowl and also you will have a ready meal since you won't need all the potato salad for this plate.