Lunch-Box: Sushi Sandwich
Are you tired of conventional sandwiches? Then you will definitely love this.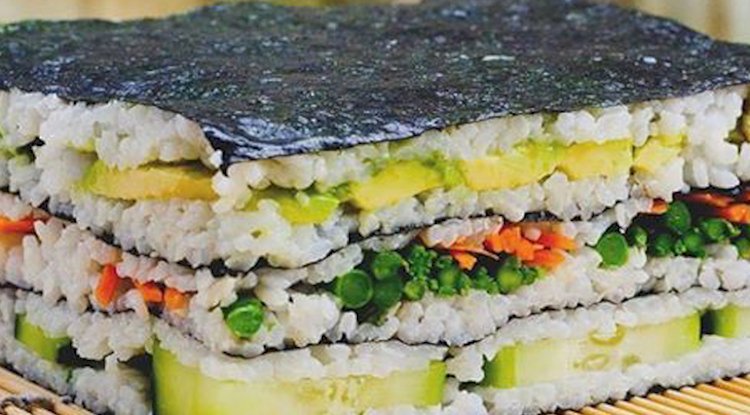 When I asked my dear readers what subjects they would like me to write about, many of them said that they don't know how to eat healthily while working on a busy schedule. So I decided to start a series called LUNCH BOX. I will share simply recipes with you so you can prepare food to take to the office the next day. Remember, if you want to stick to a healthy diet, it is essential for you to plan your day food wise. If you don't do that, all your good intentions will go down the hill once your sugar is low and you simply don't care anymore and devour the chocolate bar you had stored in your desk drawer.
No one believes that even vegetarians love Sushi, but I do! So let's make a vegetarian Sushi-Sandwich all together. It's quickly prepared, easy to eat and tastes awesome. My kids ate half of it and it was their first Sushi ever! By the way you can always turn it into a "real" Sushi-Sandwich by adding a layer of salmon or any other fresh fish you like.
Here is what you need: 1/2 glass of Jasmine rice, 2 Nori wraps, 6 organic eggs, soy sauce, 1 avocado, 1 carrot, 1 cucumber.
Cook the rice by simply putting 1/2 a glass of the grains and one glass of water in a pan, you may have to add a little water. You don't need salt because we will use soy sauce which is very salty and we want to use as little sodium as possible. Then you cook the omelet: whisk six egg whites and one yolk together and pour them into a pan that you greased with a little olive oil. Again: no salt needed.
Lay one of the Nori sheets on a plate and spread the rice on it. Then pour a little soy sauce in stripes pattern over the rice.
Carefully place the omelet on top of the rice layer and cut the edges if necessary.
Mash the avocado with a fork and spread it on top of the omelet.
Add the second Nori sheet and your sandvich is ready. Cut it in triangle shape and peel cucumber and carrot in case you don't have the necessary equipment at the office.
Put the sandwiches and veggies in a glass container and seal it. Don't forget to take it out of the fridge when you leave to the office in the morning!
Enjoy your meal!