This bread doesn't make you fat!
Of course we eat a sandwich on the way and wouldn't want to miss bread on the brunch table. I make mine with cashew nuts.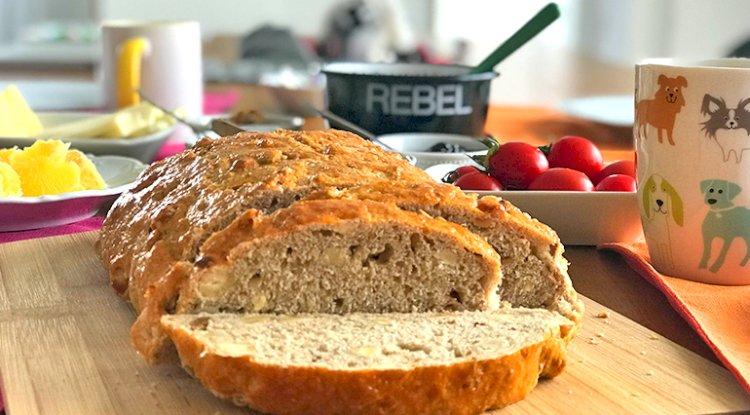 'Do you never eat bread?' I am often asked agasped. Of course I do! But I don't eat the white one. I prefer bread made with wholewheat flour, nuts, seeds, fruit or veggies. This keeps you longer satisfied and tastes better anyway. 'How many slices of bread do you eat a day?' is the next question coming right up. I eat maximum one slice and definitely not every day. Not that it wouldn't be healthy, because this recipe here actually is very healthy. I simply want to eat oats and chia too, not only bread all the time.
To bake bread is the easiest thing on earth. I remember that I baked my first plait when I was 10 years old. My parents were still asleep when I got up to mix the ingredients for the dough. My grandmother had showed me how to braid it by using two kitchen towels. I will never forget how surprised and delighted my mom was.
I find a bread machine totally unnecessary. To clean it carefully is very time consuming, that is why I prefer to knead the dough in a bowl. It is actually lots of fun to punch that dough, you should try it.
We mostly make bread once a week. When we don't spend lots of time at home, I cut the bread into slices and freeze them in freezer bags. In the morning, we quickly heat them up in the toaster and enjoy a healthy crispy bread for breakfast.
This is my favourite recipe:
500 gr wholewheat flour
75 gr cashew nuts
75 gr hazelnuts
2 tablespoons vinegar
3 dl water
1 yeast cube
1 teaspoon salt
Directions:
Dissolve the yeast in the water. It should be room temperature, don't use ice cold water from the fridge. I believe that there is a big taste difference between fresh and dried yeast – go for the fresh one. Mix the liquid with flour, vinegar and salt. Then break the nuts into small pieces and add them to the dough. Of course you may use wholewheat or spelt flour too. You can also replace the nuts with different ones that you like better. Anything goes really, today Zoe had the idea to make half of the dough with green olives and the other one with chocolate chips. Both turned out great. Let me know if you come up with an extravagant creation that we should try.