Healthy Pancakes
They taste great for breakfast or brunch, but you can also pack them into your bag for a healthy snack on the go.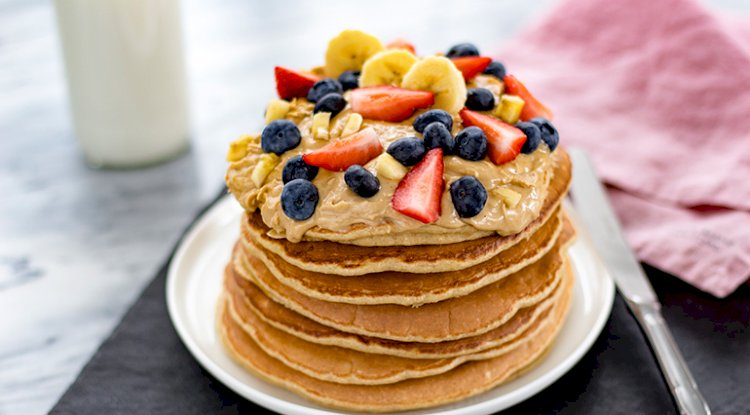 Healthy Pancakes
Imagine that you had your cheat day pancake on a regular week day. Wouldn't that be great? And that's exactly what you are going to have because I came up with a healthy pancake recipe. There is no butter, no flour and no sugar in it!
Here is the list of ingredients you need for about 8 pieces:
1 cup oatmeal flour
1 tea spoon baking powder
1 pinch salt
1/2 cup almond milk
2 egg whites, 1 egg yolk
2 bananas
For the filling and topping:
1 table spoon peanut butter
1 table spoon almond milk
blue berries
1 banana
Blend the oatmeal in the mixer until it looks like regular flour. Then add all the other ingredients, you will get a smooth and fluffy batter. For the filling, you may use banana and blue berries like I did. But apples, peaches or strawberries are also great depending on the season and your taste. For the topping you just whisk your favourite peanut butter with a little almond milk. If you ran out of almond milk, you may use diet milk or soy milk as well. Heat a nonstick or cast-iron pan and bake the pancakes one by one until they are slightly browned. You may want to transfer them to a baking sheet or platter and cover loosely with aluminium foil to keep them warm in the preheated oven. Place the cut fruits between each pancake layer and top the tower with the extra berries and peanut butter sauce.