Healthy Family Pizza
This pizza is the compromise of having pizza again and having a healthy dinner.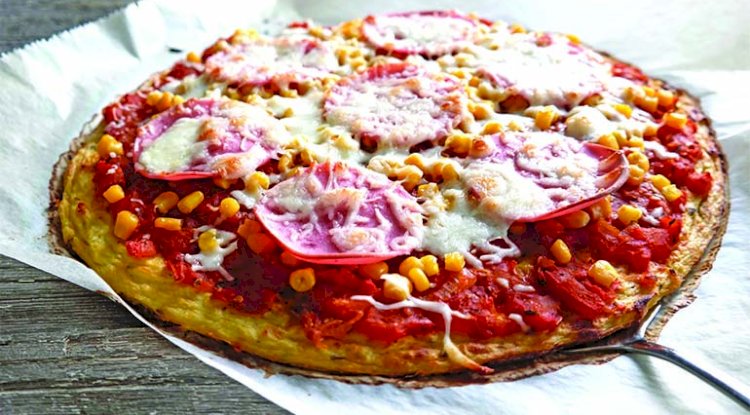 I don't know about you but I usually don't eat pizza. Two reasons: too many carbs, too much fat. We made pizza with wholewheat flour and it was really nice but still… Today we made the pizza base with cauliflower and it was awesome! The smell and the taste were perfect and I actually made my kids eat an extra portion of vegetables!
Here is the list of ingredients you need. Of course you can put very different toppings. This base would definitely work with truffle, mushrooms and cheese if you have friends coming over for a glass of wine.
CAULIFLOWER BASE:
1/2 cauliflower
1/2 cup shredded mozzarella
1/2 teaspoon dried oregano
1/2 teaspoon salt
2 eggs
I broke the cauliflower into florets and steamed them for a couple of minutes in boiling water. Then I put the cauliflower in the blender without adding any fluid and pulsed until fine. I poured the creamy base in a bowl and added the cheese, spices and lightly beaten eggs. Be prepared: the mixture won't have the consistency of a normal pizza dough. Just form the base in a circle on a baking sheet and bake it in the preheated oven for about 40 minutes in 200°C.
PIZZA TOPPINGS:
1 small onion
3 giant tomatoes
1 teaspoon olive oil
1 teaspoon dried oregano
1/2 teaspoon salt
1/2 cup shredded mozzarella
1 little tin corn
7 slices of ham or sausage
Roast the sliced onion pieces in the olive oil, then add the tomato cubes and season. Let the sauce cook until the liquid evaporates fully. Let it cool down and then spread the tomato sauce on the pizza crust. Add the corn, sausage and cheese and push it back into the oven for an other 10 minutes to bake.
This recipe has been approved by today's guests Baha and Naz. Kerem, Yasmin, Zoe and Noah loved it too, so you should really try this one.