Very berry Cheesecake
Cheesecake doesn't need to be a heavy dessert. This one is with no sugar, we are using fruit to sweeten it.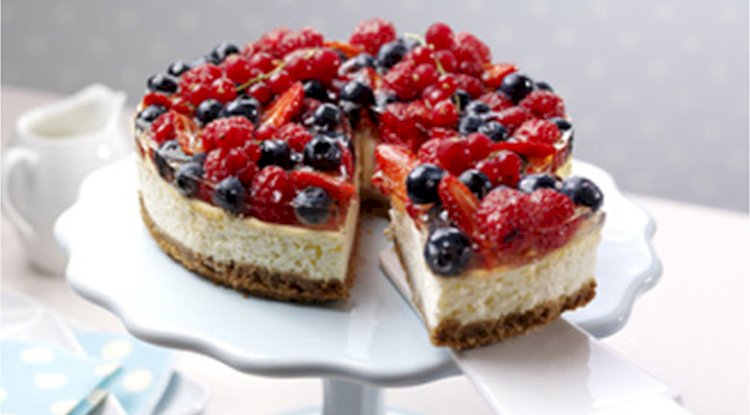 "I am not leaving before you gave me the recipe for that cheesecake!" said my beautiful friend Ulviyya and I could tell she was dead serious. She had asked me for it at the dinner party and I had shushed her, saying that I would post the recipe. Now she was sitting there with her legs crossed a block note and pencil ready, looking at me eagerly.
I understood I should better get my notes and share the recipe. And it's good I did because a couple of months have passed since. But yes, that cheesecake. It was the best I ever made. It tasted so good. So rich, so creamy, so juicy, so fresh and so chocolate. It was P E R F E C T. And the best part of course: it is a healthy cheesecake.
So if you want to pamper yourself or your beloved ones, lock yourself up in the kitchen and do it. I promise it won't take too long.
Here are the ingredients you need…
CRUST:
2 cups oatbran
2 cups shredded almonds
8 Medjool dates
3 organic bananas
4 tablespoons peanut butter
1 teaspoon cinnamon
FILLING:
600 gr diet Labne
2 cups diet yoghurt
4 free range eggs
200 gr chocolate whey
TOPPING:
60 gr bitter chocolate
1 cup raspberries
1 cup blueberries
DIRECTIONS:
Heat the oven to 200°C and place parchment paper on the tray. Evenly spread out the oat bran and almonds and bake them for about ten minutes until they turn golden brown.
Mash the bananas and Medjool dates (these are the big ones) with a fork and mix all the ingredients for the crust together. Then press the crust onto bottom and 2/3 of the way up a springform pan lined with parchment paper.
For the filling, use an electric mixer to blend Labne, yoghurt, egg yolks and whey powder until smooth and creamy. Whisk the egg whites in a bowl and combine.
Pour the filling on the crust and carefully place the cheesecake into the preheated oven. Bake until the top of the cheesecake turns golden. It will take about 50-60 minutes. Then remove the cake to a wire rack to cool.
Wait until the cake has cooled down before you start with the topping. Melt the chocolate, brush it over the cake and then place the washed and dried berries on top.
Enjoy! I am so jealous. I really wish I was there to eat some too :)