Pumpkin Cheesecake
Pumpkin is low calorie and naturally sweet, the perfect filling for a cheesecake in winter.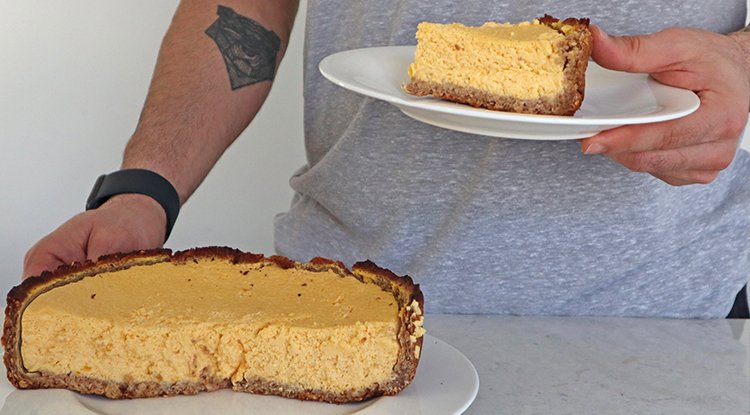 Winter smells of pumpkin and cinnamon, doesn't it? Be it pumpkin soup, pumpkin bread, pumpkin cake or roasted pumpkin with goat cheese – I can never get enough of pumpkin! Not only does pumpkin taste great, pumpkin is your superfood if you want to lose weight and get healthier.
When I was thinking of making a cheesecake this morning, my goal was to make it lighter than the ones you get at the restaurants usually. Cream cheese is quite heavy so beating it up with pumpkin which is full of fibre, vitamins and minerals but only contains 26 calories per 100 grams seemed to be the perfect solution.
Pumpkin is also said to be good for your eyes, blood pressure, skin and weight loss. Isn't it fabulous to eat dessert and have all those side effects??
I made the cheesecake around 11am and my guests arrived in the early afternoon which means the cake didn't have time to cool down fully. If you possibly can, you should rather prepare it the day before.
Cheesecake Base:
3 cups oatbran
3 cups shredded almonds
12 Medjool dates
3 organic bananas
5 tablespoons peanut butter
1 tablespoon cinnamon
Heat the oven to 200°C and place parchment paper on the tray. Evenly spread out the oat bran and almonds and bake them for about ten minutes until they turn golden brown. Mash the bananas and Medjool dates (these are the big ones) with a fork and mix all the ingredients for the crust together. Then press the crust onto bottom and 2/3 of the way up a springform pan lined with parchment paper.
Cheesecake Filling:
750 gr pumpkin
2 bananas
1 teaspoon cinnamon
400 gr diet cream cheese (labne)
4 eggs
Cook the pumpkin and pulse it together with the bananas in a blender. Add the cheese, cinnamon and eggs until you got a smooth creamy mixture. Fill into the base and bake in the oven for 50-60 minutes. Let the cake cool down in the kitchen and then put it in the fridge until you serve the cake.