Rome in Winter
We went to Rome around Christmas. It is unusual I know but it was perfect timing. With all the Christmas trees and lights, the city looked beautiful and festive.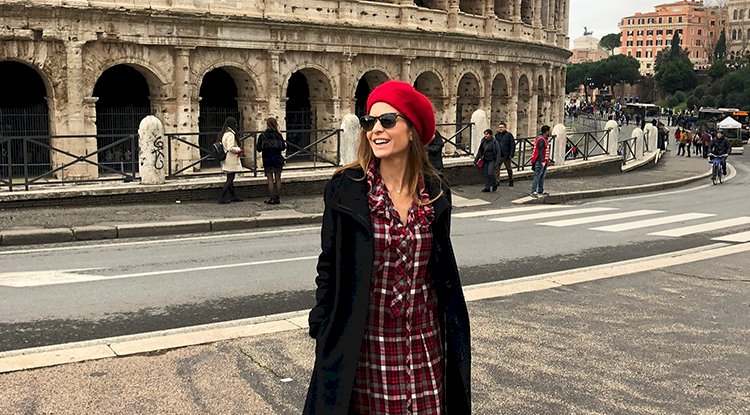 Rome in Winter
Also it was not crowded. I had been in Rome in summer and the line in front of the Vatican had been so long, I had given up on visiting. This time, we booked a tour with a guide and we could simply go through security without waiting at all. But let me start from the beginning. We went to Rome for my birthday, the trip was Kerem's present. We flew Wednesday evening so we could both work during the day. The flight from Istanbul to Rome takes only 2 hours and we landed at 6 pm. Once you get out of security, you can either take a cab which works with a taximeter or you can share a limo with some other tourists for 25 € per person at a fixed price. What we didn't know was that our hotel was literally across from the train station. One way is 14 € per adult and the trains run frequently. We stayed at Palazzo Montemartini, a Radisson Collection Hotel.
The first night we headed out to Vyta Enoteca Regionale del Lazio which is a nice bar where you can eat and enjoy a glass of wine. I had polenta with mushrooms and we shared a cheese platter. The next morning, we had breakfast at Ginger, probably the only healthy restaurant where you can actually have an Acai bowl. At 10:25 am we met our tour guide outside Vatican City. I strongly suggest you book a tour because otherwise you will have to wait for hours and also you won't understand anything of what you see. We had chosen a semi-private tour from City Wonders. The visit to the Vatican was tiring because we were looking at arts for 3 hours but it was so worth it. I was amazed by the Sistine Chapel, Michelangelo's masterpiece which shows images from the Bible on the ceiling (1508-1512) and the Final Judgment, a fresco that Michelangelo painted later on in his life, between 1536 and 1541.
In the evening we joined a group for a wine tasting in Rimessa Roscioli. We had a great time because the owners, an Italian couple, were both there. We were sitting in the cellar itself which is a bit cool, so make sure you bring a jacket or coat, depending on the season you are visiting. The tasting started with Prosecco, continued with white wine, then red wine and finally dessert wine. I told them that I was vegetarian and they prepared different food for me. It was a relaxed atmosphere; all the participants were talking to each other and we learned from Allesandro how to taste wine as well as lots about the local wines and their stories. I can definitely say that this evening was the highlight of our trip.
On Friday, we walked to the Colosseum but because we hadn't booked a tour before, we had to wait in the line and there were no guides available except for those phones you rent. We gave up and left without visiting the inside. If you want to skip the line, you should definitely book that tour with an agency like City Wonders. We had a late breakfast in a restaurant near by, the receptionist had recommended it but it was really bad, so I won't mention it here. In the evening we wanted to go to Achilli restaurant which is a Michelin star place we discovered when strolling through the streets. Unfortunately we couldn't book for the same evening because I am a vegetarian and there wasn't enough preparation time for the chef to adapt the menu to my needs. We ended up in Taverna Trilussa which was a recommendation from our concierge. We had very nice truffle pasta which we both loved. Don't go for the award winning ravioli - they are not bad but the egg crumble on top was not that great either. Their tiramisu was definitely much better than the one from Pompi which seems to be a hip place for tourists but has nothing to do with the real thing.
What I love most about Rome is all these little coffee shops around every corner. The coffee is delicious no matter where you go. And I noticed that Italians meet in the coffee shop in the morning before going to work. They have an espresso shot without even sitting down, chat to the neighbors and friends for a couple of minutes and then head to the office. It seems to be a ritual pretty similar to us meeting up for a drink after work, only that they have coffee and meet before work.