Healthy Quinoa Muffins
Muffins for breakfast anyone? I love to start my day on a sweet note, but I want my food to be healthy. With this muffins I have both covered.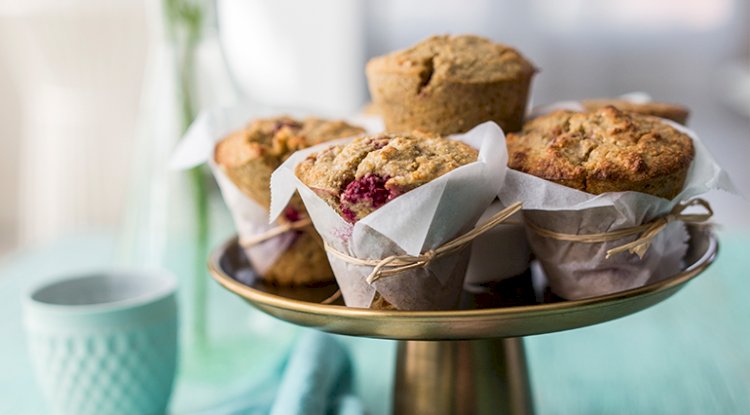 Healthy Quinoa Muffins
If you are tired of omelet and porridge breakfasts, this yummy muffin may be an alternative for you.
I am so proud of this recipe because there is NO FLOUR, NO BUTTER and NO SUGAR in this muffin and it tastes absolutely awesome!
The main ingredient is Quinoa which of all the whole grains, has the highest protein content and provides all 9 essential amino acids. Quinoa is gluten-free and cholesterol-free and is perfect for sports people and vegetarians.
Ingredients:
200 gr Quinoa
2 dl Almond Milk
90 gr Chocolate Whey Powder (or normal unsweetened chocolate powder)
2 Bananas
2 Eggs (I used the yolks too)
2 tablespoons Wheat Germ
2 tablespoons grated Coconut
2 tablespoons Coconut Oil
1 bag Baking Soda
2 pinches of Cinnamon
Topping: Peanutbutter & Banana
Soak the Quinoa in water for at least one hour, preferebly over night. Drain the water and combine the grains with all the other ingredients except for the two bananas. Place in a blender and mix until you got a thick smooth batter.
Gently mash the bananas with a fork and and fold them into the muffin mixture.
I devided the mixture between 6 individual muffin cases, but you may also make smaller ones. Just remember to shorten the baking time. Place the tray in a preheated oven and bake at 200C for 25 minutes until well risen and golden brown on top.
Serve the muffins while still a bit warm and top them with Peanut butter and banana.
I cannot wait adding blueberries or dried cranberries. The options are endless. Let me know if you came up with a nice variation!