Protein stuffed fig slices
Fresh figs simply look amazingly beautiful - that's an other reason to make this healthy dessert that will provide you with extra protein.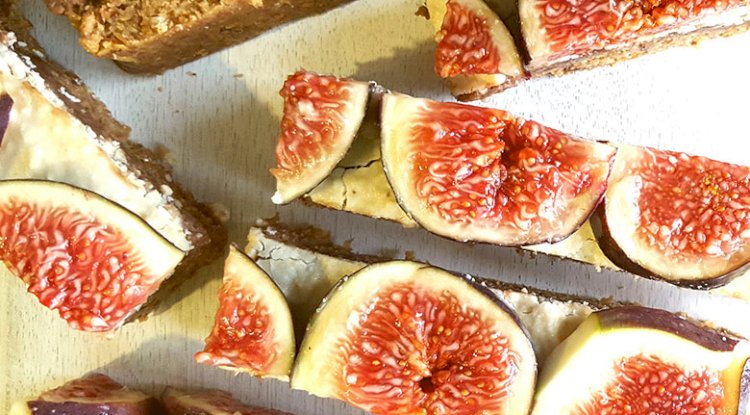 Protein stuffed fig slices
This became my new favourite dessert! It is too good to be healthy too, but I assure you it is. I used only complex carbs and chose fresh figues for the top layer since they are in season now. But you could use strawberries, blueberries, raspberries or peaches too. Even oranges should taste good in combination with this layer cake.
I like to make lots so I can share with my friends. Make this for your beloved ones as this dessert is sure to impress! The quantity of the ingredients I used filled a 25×25 cm glass loaf pan.
OATMEAL BASE
1 1/2 Cups Oatmeal
1 1/2 Cups Wheat Germ
1/2 Cup Ground Flax Seeds
1 Cup double roasted Hazelnuts
2 Bananas
4 Tablespoons Peanut Butter
CHOCOLATE BEAN LAYER
1 1/2 Cups Red Kindey Beans (soaked in water over night)
8 Mejdol Dates
1 Cup Chocolate Whey Powder
3 Tablespoons Water
COCONUT CASHEW CREAM
1 Cup Cashew Nuts (soaked in water over night)
1/2 Cup Coconut Flakes
1/2 Cup Vanilla Whey Protein
5 Tablespoons Coconut Oil
FRUIT LAYER
4 Fresh Figues
DIRECTIONS:
For the base, add all ingredients into a blender and process until the mixture sticks together when pressed between the fingers.
Line tray with cling film.
Pour mixture into tin and carefully press, using the back of a spatula until base is completely flat and even.
Put into the fridge whilst you prepare the bean layer.
Cook the beans in the pressure cooker until soft and drain the water.
Pour the beans, dates, whey powder and water in the food processor und mix until very smooth and creamy.
Spread the chocolate bean layer on top of the base.
For the coconut cream, add cashews to a blender and process for a few minutes.
Add the coconut flakes, whey protein (you may use banana flavour or simply milk powder too) and coconut oil. Pulse to combine.
Fill the coconut cashew cream layer on top of your cake.
Decorate with fresh figs, slice carefully with a sharp knife. Wash the fruit thoroughly so you don't need to peel them.
Enjoy this delicious cake with your family and friends