Healthy Breakfast Muffins
If you like to start your day with something sweet to have with your coffee, this muffin may be just what you are looking for.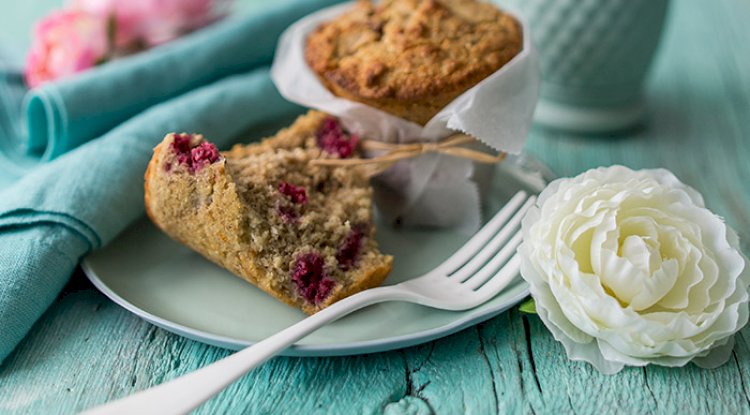 Breakfast seems like the easiest meal to prepare for your kids. Of course, if you let them have cornflakes every morning it definitely is. But if you want them to kickstart their day with a nutritious healthy breakfast, things are getting more complicated. Most kids don't like eggs and even if you manage to get them interested in oatmeal, you cannot serve them porridge every day. These oatmeal muffins are a great solution not only for health conscious moms but also for students who want a healthy snack when their energy drops.
I filled a non-sticky silicon tray with 12 muffin forms with the indicated amount of ingredients. Since they are relatively small, Noah ate two of them. I offered him a cup of warm milk and he happily dunked them in it. He also offered my boyfriend Kerem to dunk his muffin in his milk because the taste was going to be better than if he dipped it in his coffee.
If you put the muffins in a tupperware, they will stay moist for 2-3 days.
That's the ingredients you need:
2 cups Oatmeal
2 tablespoons Flaxseed Meal
1 Apple
1 Banana
10 dried Apricots
1/2 cup Milk (any milk you prefer)
3 tablespoons Coconut Oil
2 tablespoons Raw Cacao Powder
2 tablespoons Coconut Sugar
1 teaspoon Baking Powder
1/2 teaspoon Cinnamon Powder
25 Hazelnuts
Preheat the oven, then pour the oatmeal in the blender and process until you have got flour. Add the flaxseed which has flour consistency already, if it doesn't – blend that too. Peal the apple and grate it before you mix it with the rest of the ingredients in the blender. Don't put the hazelnuts yet because we want them to remain as a whole for an extra crunch in the muffins.
After you have a dough like paste, add the hazelnuts and fill up the forms. Bake the muffins in the mid section of your preheated oven for 15-20 minutes in 220°C.
Feel free to add or exchange ingredients to make it to your beloved ones favourite. It's also always a good idea to bake together with the children. Noah ate so many muffins and he made everyone else eat too, telling them proudly that he baked them!