Chickpeas never tasted better!
As a vegetarian I love to eat legumes. This chickpea protein bar is a perfect snack to eat on the go.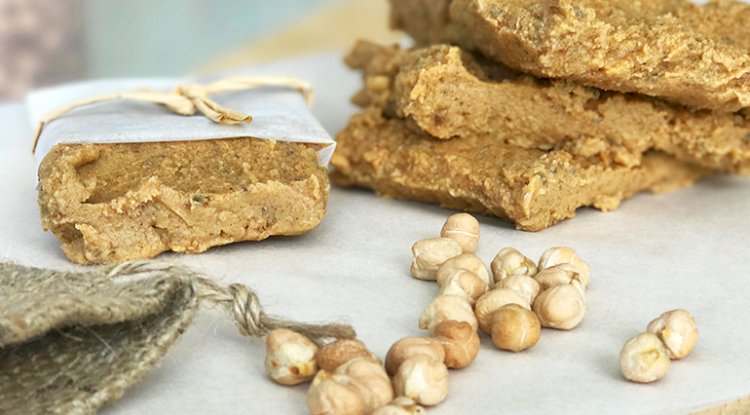 All you need for these homemade protein bars are ingredients that you probably have in your cupboard anyways. I don't know about you but my boyfriend Kerem and I are addicted to dried fruit and nuts. I use medjool dates in lots of my desserts, they are a perfect sugar replacement. Protein bars are usually seriously expensive and if you take the time to check the ingredient list on the package, you will understand how much junk there is in them. Make your own healthy protein bar that you can have as a sweet treat when you are craving or as a energy snack before your workout. You may even share these bars with your kids, if you press a couple of chocolate chips into the dough before freezing it.
Here are the ingredients you will need for 10 bars:
1 cup double roasted hazelnuts
1,5 cups chickpeas
10 medjool dates
1/2 cup water
1 teaspoon cinnamon
1 pinch salt
1 tablespoon chia seeds
Directions:
If you cannot find double roasted hazelnuts you can use the normal ones too. I just find they are extra tasty. Put all the ingredients except for the chia seeds in the mixer and blend until you get a smooth dough. You often ask me which mixer I use since it has to be quite powerful to grind nuts and dates. I bought the Vitamix one and I am quite happy with it even though sometimes I wish it was even stronger! Add the chia seeds to the batter in the very end and mix with a spoon. Then press the dough into a baking sheet and freeze it for 2-3 hours. That will help you to cut them into bars and they also taste better chilled. Serve the protein bars right away after you have cut the batter into pieces. If you don't have visitors over and want to keep them fresh, just put them back into the freezer and take one out whenever you feel like having a healthy dessert. You will have to wait maximum 10 minutes until your protein bar softens and is ready to eat. Enjoy!