Veggie Lasagne goes Salad
This salad comes in layers and tastes so good - you will feel like you are on a holiday in Italy.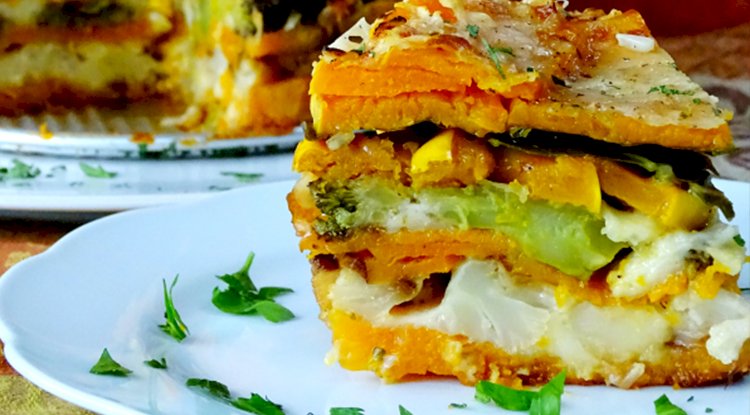 Veggie Lasagne goes Salad
For this dish I was inspired by the italian national dish lasagne which is a tray filled with flat shaped pasta sheets alternated with sauce bolognese and béchamel sauce on top. I wanted to do without the simple carbs from the pasta and since I am a vegetarian, without minced meat. I used sweet potato and lots of vegetables instead. Here is what you need:
2 sweet potatoes
2 eggplants
2 zucchinis
1 carrot
Cut the eggplants and dazzle salt on the slices for the bitter liquids to come out. Wash them off after half an hour. Prepare the other veggies in the same style.
Mix these spices together with the olive oil and brush the vegetables with the marinade. Bake them in the preheated oven until they get soft and golden.
2 tablespoons olive oil
1/2 teaspoon salt
1 teaspoon chill flakes
1 teaspoon oregano
1 package pine nuts
4 tablespoons white diet cheese
2 tablespoons pomegranate syrup
Roast one package of pine nuts in a pan until golden brown. Rub them in paper towel to remove the fat. Make layers of different veggies, cheese and nuts. Arrange them on a bed of ruccola salad. Add some drops of sour pomegranate syrup (Kemal Kükrer) for an extra twist of flavour.