Smoothie Recipe for Kids
My daughter Zoe has to get up very early in the morning and eating breakfast seems to be a big effort for her. A smoothie is a good solution for everyone.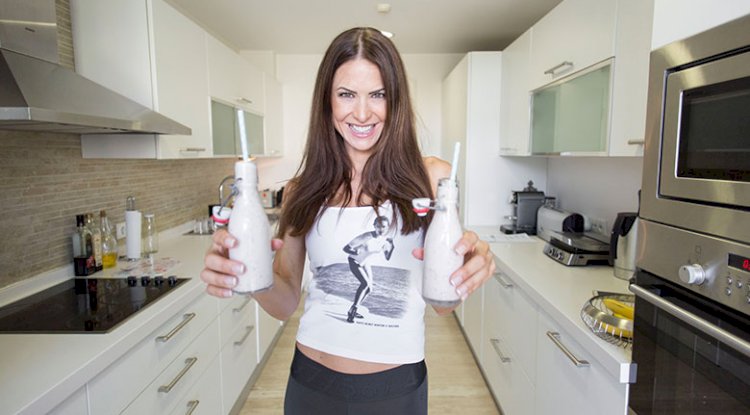 Smoothie Recipe for Kids
Today I wanted to make a smoothie that would be filling enough for Zoe as a breakfast on its own. My daughter doesn't like to eat in the morning, probably chewing is too much effort for her at this time of the day! She slurped it all up and said she was looking forward to trying the next one – big success.
I made double the portion of the recipe below so I could fill the smoothie in these cute bottles and take them to a friend who doesn't like to have breakfast neither. Can you tell, Squatgirl on a mission!
The ingredients you need are:
2 dl water
1 banana
1 peach
2 table spoons diet Turkish yoghurt
1 table spoon oatmeal
1 tea spoon peanut butter
1 tea spoon Lucuma
Just place everything in the mixer and blend for 1-2 minutes. I discovered Lucuma in an organic shop in Switzerland. Lucuma is a subtropical fruit native to the Andean valleys of Peru and known as the "Gold of the Incas". It is an excellent source of carbohydrates, fibre, vitamins, antioxidants and minerals necessary for bodily functions and of benefit to the immune system. It smells divine and has a creamy citrus flavour.
I couldn't find Lucuma in Turkey, actually there is a whole lot of things we can not buy here unfortunately. So here is a shopping list for when you or one of your friends go abroad:
Chia Seeds
Hemp Seeds (peeled and unpeeled)
Maca Powder
Quinoa Puffs
Lucuma Powder
Spirulina Powder
Baobab Powder
Acai Berry Powder