Healthy Snack: Juicy Plum Balls
I love to try new combinations of dried fruits with nuts and oatmeal. We did this one with plums.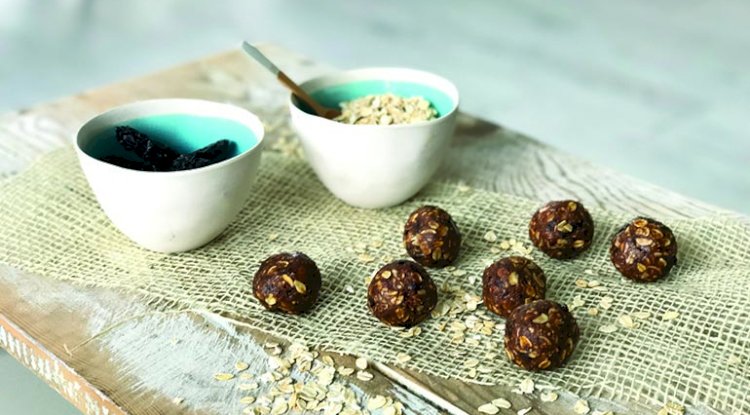 We were home with Noah and my dear friend Hasan (who is translating this and all the other texts for us) was going to come and visit with his wife Gizem and cute baby girl Peri. We had done the shopping and cooking but wait – we had totally forgotten about dessert! I checked my cupboards and found a couple of things I thought would match. I don't know, but I have this sense for matching ingredients and it has always worked out so far.
With after sight I can say that you should really try this recipe because it was a big success. It was like in one of those advertisings: Everyone is sitting around the table and there is this big plate with the pralines and all of the hands are reaching out for one and then an other one and in the end there is only little paper wraps left. I loved it.
Here is what I had found in my cupboards:
1,5 cups oatmeal
1 cup double roasted hazelnuts
1 cup dried plums
1 tablespoon flaxseed
3 tablespoons coconut oil
1/2 cup water
I spread the oatmeal on a baking sheet and shoved the tray into the preheated oven. I waited until the oats turned golden after 10-15 minutes. Then I turned the oven off because there wasn't going to be anymore baking. I blended the hazelnuts and scraped the paste into a big bowl together with the oats. Usually I blend the oats but this time I didn't. I placed the rest of the ingredients into the mixer and waited until I got a smooth batter.
I carefully knead the dough and then formed little balls. That's it. I stored the plate in the fridge until we were ready for dessert. I think that the oat pralines taste better when served cold and of course with coffee!
Enjoy.