Oatmeal slices with Chocolate spread
Whenever I bake, I tend to replace flour with oatmeal. These slices are super nice because of the creamy chocolate spread on top.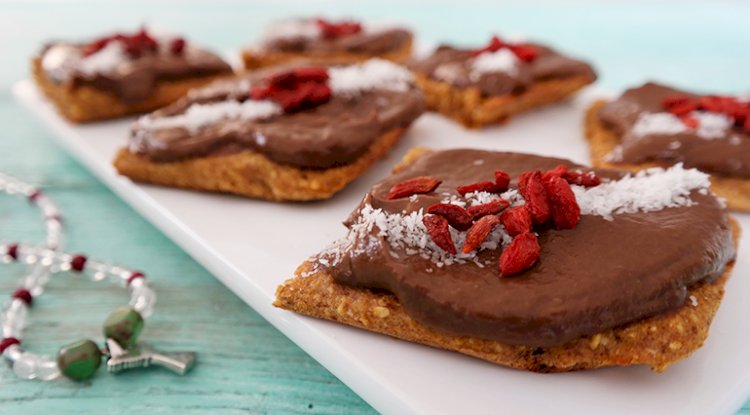 When I eat sweets I have a couple of expectations. I don't want refined sugar, butter and flour in my dessert , but I do want at least two different textures and flavours to satisfy my taste buds. This morning I realised that I hadn't baked anything with carrots lately. How come? Carrot cake with marzipan and sugar icing used to be my absolute favourite when I was a child.
I decided to couple the subtle taste of the carrots and the oatmeal with a rich chocolate mousse. I used an avocado and chocolate powder and it turned out really great. I first tried with sugar free cocoa powder and added a ripe banana to get a certain sweetness but it wasn't quite as I wanted it to be. So I suggest you either use normal chocolate powder and forget about the banana or you use the bitter one and add some stevia or maple syrup to make it sweeter.
Here are the ingredients I used for the base:
1,5 cups oatmeal
2 carrots
1 cup dates
1 cup milk
2 eggs
3 tablespoons almond butter (peanut butter works too)
3 tablespoons grated coconut
1 tablespoon flax seeds
1 tablespoon baking powder
Process the oatmeal until you got flour. Then peel the carrots and cut them into big chunks. Blend the carrots together with the dates and the milk until you got a smooth texture. Mix all the ingredients together and spread the dough on a baking tray. Preheat the oven and bake for 15 minutes in 200°C.
Ingredients for the spread:
1 Avocado
2 tablespoons cocoa powder
2 tablespoons milk
2 tablespoons goji berries
2 tablespoons shredded coconut
Place the avocado, cocoa and milk in the blender and wait until you got a thick smooth cream. Spread the mousse on the oatmeal slices once they cooled down. Decorate with the coconut and goji berries. If you are not going to serve all the slices, I suggest you keep some of the mousse separately in the fridge. Zoe and Noah were happy to dunk the oatmeal slices into hot milk for a hearty breakfast. Serve with fresh fruits and there you go: a healthy breakfast that will keep them full until lunch.